Summer teen experience/ high school preparation (13 – 18 years old)
This program offer students a complete Canadian adventure, where they will be fully immersed in English language lessons designed for the high school student, all while experiencing Canadian culture . The course will focus on oral, audio and grammatical part of the English language.  Students will practice their language skills in the morning classes followed by exciting activities in the afternoon.
INCLUIDES
English program ( 28 lessons / week) Monday to Friday 8:45 to 13:45
Registration fee (non refundable)
Material and administration fee
Homestay placement fee (non refundable)
Homestay fee for minors (single room + 3 meals daily)
Airport pickup and delivery
Teen activities charge
Tour-Rocky Mountains (July 19th -July 22) optional
*Note: the tour for the Rockies is optional. If a student will not attend, then deduct $430 from the total.
Activities include excursions to world-famous Stanley Park, Grouse Mountain, museums, aquarium, public library, hockey, skating, soccer, volleyball, and tons of other activities.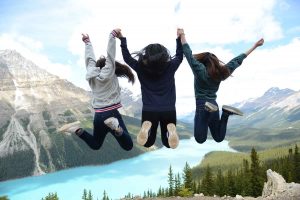 Next start date is:
July 3rd to August 17th 2018
For more information contact info@globalstudentagency.ca